Most Popular Products
Fantom X6 ReFill
YAMAHA MOTIF ES7 ReFill
Fantom X6 SoundFont SF2
KORG KRONOS Kontakt Instrument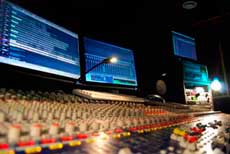 We are glad to see you at our online store vst-store.com. At our store you can buy sample libraries, sample sounds of various musical instruments (NI Kontakt NKI, SoundFont SF2, Reason ReFill, WAV samples and loops, AKAI, Halion, sampletank banks and so on...), VSTi instruments, styles for workstation keyboards (Yamaha styles, Korg styles, Roland styles, Casio styles, Ketron styles, Technics styles etc…), musical softwares and all that is necessary for modern musician and sound engineer for creating music on your computer PC and MAC.
We have a professional studio and modern techniques for recording and sampling of various musical instruments (analog, digital, acoustic).
Our company norCtrack studio is engaged in the professional production of high quality sample libraries from 2009 till now! We have started selling our products in the most popular online auction eBay in 2010 till now. And we continue to sell our products in our eBay store: vst-store so far. Now, thanksto our wonderful customers we have opened our own online store and Official Website vst-store.com and norctrack.com.
We are a manufacturer of our all products. Our Sound Director and Professional musicians will make all efforts that would receive the highest quality. Several times we test all our products before selling.
We make samples of both electronic musical instruments: synthesizers, arranger workstation keyboards, bass guitars, electric  & acoustic guitars, and so on. And make samples of acoustic musical instruments like grand pianos, pianos, stringed instruments, horns , ethnic instruments, rhodes and so on….
This musical instruments we take on lease or buying to make sample sounds. In addition we are engaged in programming VST Instruments and Styles for workstation keyboards like yamaha, korg, roland and so on...
All our products are in the professional quality and you can be used of professional arrangements ( for example: making records, remixes, commercials, jingles, commissioned pieces, soundtracks for film, theatre, musicals, computer games, multimedia and so on……). We guarantee a high and professional quality of our products.
To read the news of our company norCtrack, you simply need to click on This Link, or go to the main menu item "News" of our website vst-store.com.

---
 What are the samples we make?
We create samples of the following formats:
Kontakt Instruments: (*.NKI)
SoundFont: (*.sf2)
WAV (samples and loops)
GIGA Sounds: (*.gig)
AKAI: (*.akp)
Halion: (*.fxp, *.fxb)
Reason ReFill (*.rfl, *.nnxt)
SampleTank (*.sth)
EXS/EXS24 (for MAC and Logic)
Yamaha Tyros (*.TVN , *.uvn)
SFZ (*.sfz)

---
How do we make samples?
During this time we found a unique and exclusive approach to making sound libraries: takes a real musical instrument patches are selected, disabled effects, where it is needed. Sheet music is written without any automation programs (which curtail the range and length, and removes the noise). Everything is done by our high leve sound engineers strictly by hand, who have great experience, the point of duration is defined by the patch. In this case the dynamic range of any treatment is performed. The level shall be verified carefully, depending on the instrument.
After all sampled across squelch the real instruments in the professional sound card directly, and further there is a very complicated process of fitting and assembly of the banks, manual adjustment of loops, the definition of a range of keys, a useful range of octaves tuned. After the banks are tested, inspected, and even compared with the original sound of the real instrument! That is why the manufacture of a high-quality music sample libraries spent so much time. But the quality justifies it!
If you have any questions, please contact us by e_mail: info(at)vst-store.com and we will be happy to answer you as soon as possible.
---
All our official websites:

http://vst-store.com/
http://norctrack.com/
Please read the terms of the following licence agreement before you purchase our products!!!
---
 Read More About norCtrack:
Our company «norCtrack Studio» and «vst-store.com» wishes you great creativity!