Buss Compression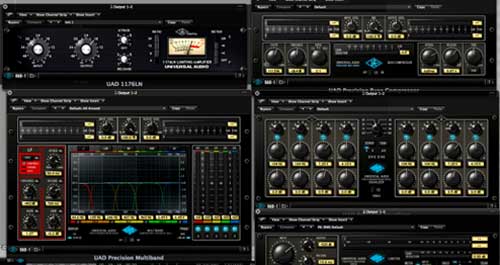 Compression can be very difficult for you to understand the topic. Given that the market is now hundreds, if not thousands of different compressors, flour choice out of all this diversity, often able to stall novice sound engineers and producers. One of the most confusing and sparse side compression is Buss Compression. In this article I will try to shed some light on this subject, and dismantle its pros and cons.
What is a Buss Compression ?
Speaking generally, the overall compression of the tire does not differ from ordinary compression, except for the fact that it applies not to a specific track or instrument and their group, or even to the entire mix at once.
If you are still not familiar with the concept Bus, do not worry, it's not difficult. Bus - is a specialized term for a group of instruments. Keep in mind that in different DAW, Bus may have different names, e.g. «auxiliaries», «busses» or «groups».
Their mission - to unite in one channel sounds different tracks.
Percussion and Drums - perhaps one of the best examples of combining tools for compression on a shared bus. With that, you are likely already using compression on individual channels drums without compression to Obey the bus, they may sound and together tightly enough.
Configuring routing within your DAW so that all the individual drum tracks came on the same bus, you can adjust the volume of the entire drum tracks and even apply EQ or other effects for them, both for the individual track. Using this technique, you ensure that your drums will sound much more solid, and feel like a single instrument.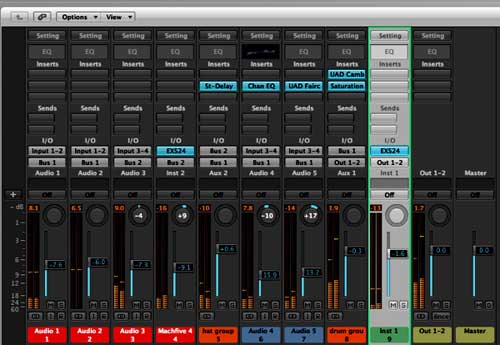 Sideband Buss compressors
There are several different types of compressors commonly used in common busses. This - sideband (or scale) and multiband compressors.
Some engineers believe that this traditional Buss compressor must be exclusively single-sideband, to ensure maximum quality. Technically, any single-compressor may be used as a compressor shared bus. However, many argue that such an important task deserves only specialized devices, because the most common, cheap compressors can make unwanted artifacts in the sound, and cause a significant reduction in dynamic range.
There are several companies that manufacture specialized Buss compressors. Typically, they are designed for mastering, but the same can as well be used for general tires or other percussion instruments. These plug-ins tend to mimic the sound of some real outboard devices, which typically produces a substantial load on the processor and, consequently, higher latency than the use of conventional compressors.
A great example of a classic Buss Compressor - This plugin Waves G Master. Buss compressor. This - a replica of the compressor is in mastering the SSL section of the famous SSL 4000 G. It sounds really looks like the real sound, of the console compressor. You can just add this plugin to the master section of your DAW, and see this.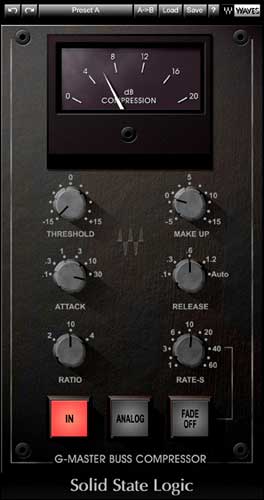 Company Universal Audio also has at its disposal several Buss compressors. one of which is a copy of the same model SSL, and the other is designed in the best traditions of devices Neve. These are very good compressors, mastering level with a large range. Moreover, unlike their iron counterparts, these plug-ins have some really desired functions, such as high-pass filter to avoid Pumping effect, as well as regulators Dry / Wet mixing process the sound source.  


Multiband Buss Compressors
Multiband compressors may not be designed specifically for use on the general tire, but, nevertheless, thanks to them, too, can achieve amazing results.
Multiband compressor mastering class can become an indispensable tool for narrowing the dynamic range of a group of instruments, or even the entire mix without additional "color" of the sound. The essence of multiband compression that for each band range can be configured with various compression parameters. Bands themselves separated by built-in crossover and as a rule, also regulated.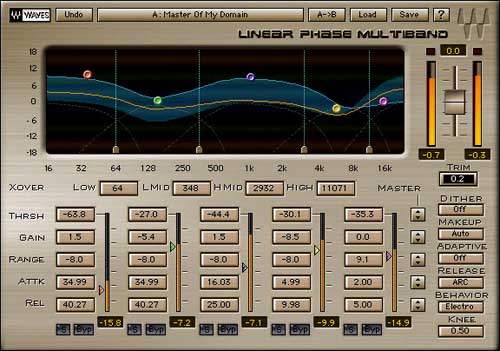 Using this method you can easily affect the individual, the problem areas of your mix, without affecting other areas. Of course, using a multiband compressor you are unlikely to get the effect of "gluing" of the mix, which would be in a single-lane Buss compression, but you can always experiment and combine your tires on a single-lane and multi-band compression....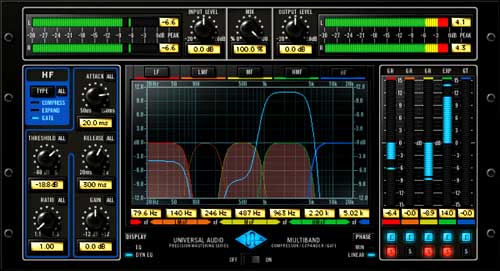 Buss Compression When Mastering
Buss compressors are often used in the mastering. In fact, they are specifically designed for these tasks. Buss compressor with a very high probability will be one of the first devices in the chain of a mastering engineer, since it plays a very important role in shaping the sound.
Main tasks Buss compressor mastering stage - is to reduce the dynamic range, reducing peaks and, consequently, increase the volume of quieter sounds. All this naturally leads to an increase in the overall volume of the mix. However, any changes must be as transparent as possible and pleasant to the ear.
For these reasons, one should always try to use the highest quality mastering stage compressors that do not contribute to the sound no extra parts. To further minimize any possible distortion as a result of the compressor, it is necessary to try to use the lowest value of the parameter «Ratio» and the high value of the parameters «Attack» and «Release». Mastering compressors usually operate at very high resolutions that also achieves the most transparent sound.
And, although good results can be achieved here, even if the use is not the most expensive models of compressors used in such cases, a standard compressor from your DAW is not recommended.
 Parallel Compression
 The way The routing of your Buss compression is also crucial. To create the loudest sound and tight, while preserving control over the parameters of Dry / Wet, it is recommended to use parallel compression. Basically, it's just kind of Buss compression, which requires a slightly different route.
Making a copy of your tool or master bus, you can put on one of them the compressor and the other left in its original state. When the compressor is on one of the copies, you can use a much more aggressive settings and mix these two sound to taste. Thus, the final signal will basically consist of a dry, unprocessed sound, retaining much of its original character. More often, this method is suitable for drums, but with the same success can be used on any other instruments, and even on a full mix.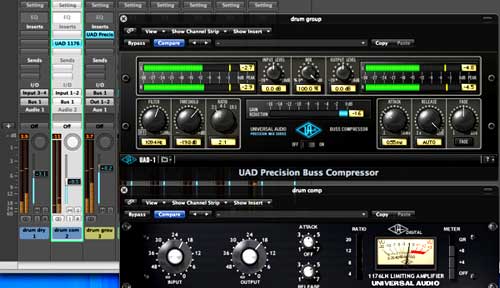 Sequential Compression
Another great way to organize your Buss Compression - this is not parallel and sequential compression. This method involves the use of multiple compressors (perhaps even different types) of each other on the same channel or bus. These compressors can be used at various stages in the circuit the effects and help to achieve a much greater compression than one compressor alone.