How to choose a good Sound Card for home studio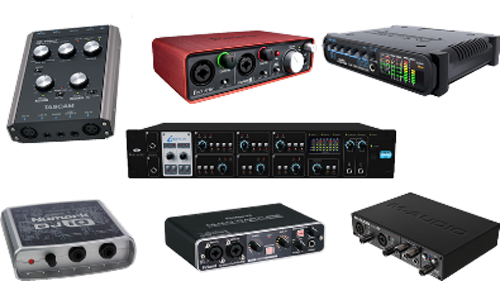 Modern musicians and sound engineers are always faced with the choice of a good sound card for home studio. Today there are so many different sound cards. And to choose the right sound card with high sound quality and affordable prices, many musicians spending a lot of time. That's why I decided to write this article to leave my opinion on sound cards to home studio. This article is not for professional recording studio.
 From my own experience I can say that the vast majority of those who are faced with the problem of selecting the first audio card for home studio, usually works in the genres of rap and hip-hop, and they need a sound card in the first place only to record the vocals. So basically, I will make recommendations based on their needs. But, of course, will not go away, and other genres, each of which, no doubt, requires a separate approach.
So, first we must ask ourselves: what do we need from sound card? First, of course, we need quality! The quality of the analog to digital and vice versa. Second, the presence of phantom power for connecting condenser microphones. Third, ease of management. Fourth: adequate ratio price / quality / performance.
If you choose your sound card to record songs in the genre of rap and hip-hop, then you need to have one, or a maximum of two channels. Overpay for additional channels just does not make sense. it is likely that you will never use them. The same applies to electronic musicians.
But of course, if you plan to do in the future in other music genres, then recommend to think about additional channels. To make an acoustic music, of course, will need to immediately determine how many channels you need for simultaneous recording, and only then move on to the selection.
So move on to the main:
Buy something at a very low price, I would recommend you do not. Immediately eliminate all kinds of options under consideration Creative Sound Blaster, Terratec, and other Beringer UCA - not the level. These cards fit most moviegoers and gamers. We need something more serious.
Is the budget of all budget options. Seriously consider buying this card is worth only if you are very low on money. This does not really moved far from its "civilian" counterparts, and call it a professional card for musicians can be a stretch, primarily because of the cheap AD / DA converters Wolfson WM8776. Yes, there are 4 inputs and outputs, there are phantom power, there's even a S / PDIF, and specifications on paper look quite acceptable. But, in fact, we have the map of the entry-level. Can also cause problems with new operating systems.
This is one of the most popular cards of home studios. In its price range it shows remarkable performance. It is also worth noting that this sound card is initially focused on the musicians, not music lovers. Her ADC (AKM AK5385A) is slightly better than the DAC (AKM AK4358),that clearly indicates that the developers have positioned her for home. No problems with drivers, unlike the previous sound card. On the contrary, they have Juli@ very easy to use and informative. But this card has no phantom power for condenser microphones, so connect them directly will not work. But there is a MIDI-port. Here it gets more interesting: the choice is much larger, there are well-known brands, there are comfortable, external audio card.
In fact, Infrasonic Quartet - a rethinking card ideas Audiotrak MAYA44, which in its time has evolved into ESI MAYA44. Here we have a 4 × 4 unbalanced TRS jacks, one of which is designed to connect microphones, it has phantom power and low cut filter 75 Hz. The second mode is able to work in guitar input. But, of course, the greatest strengths of the Quartet - are converters AKM AK4620B, which also work ECHO Audiofire 4 and RME Fireface 400. Infrasonic Quartet is very interesting, it is at least as good quality recording / reproducing than ESI Juli@, and phantom power for the microphone, makes it more attractive to end users. 
The first external audio card in our review. Powered by top converters AKM AK4396. This sound card already has professional XLR-connectors, and in addition to the phantom power, high-grade microphone preamps appeared class, and for each channel to gain 60 dB. If you have a small budget, then you can safely take the E-MU 0404 USB,  you will not be disappointed with the quality or ease of operation, configuration and connection.
This is a professional grade device designed specifically for musicians and not for audiophiles. This is what we eloquently lack of standards support DirectSound3D and EAX. But the card has 2 analog inputs, 2 outputs, S / PDIF, MIDI, phantom power and the ability to connect to ADAT, which may increase the number of inputs / outputs up to 8 pieces. It is worth noting DAC model used in this device: Cyrrus Logic CS4398, the same one that is installed in the top Lynx Two and ProTools Digidesign HD 192 I / O. This card has good sound quality. If you do not mind the internal form factor performance and lack of a separate headphone output, it is - your choice.
AudioBox - is the youngest in the line of interface Presonus. However, for the needs of home studio, it provides more than enough range of features and abilities. On board there are two hybrid XLR / TRS inputs for microphones / instruments, with their regulators. Microphone inputs, of course, with phantom power, all as it should. It is also have Input / output MIDI, headphone output with dedicated. And also very interesting regulator Mix, which allows you to adjust the volume balance between recordable and reproducible signal. Card is powered solely via USB. Of the pleasant surprises that await the buyer in a box - proprietary software PreSonus ProPak, sequencer Steinberg Cubase LE4, as well as plug-ins, drum loops and drum samples from other manufacturers. 
Audio Interface which, while remaining in the same price category, goes beyond the low-end. Here we have 4 analog inputs, 8 outputs, one for input and output MIDI and S / PDIF, and for two independent headphone outputs with separate level control signal. ProFire 610 - is not just a logical development model FireWire 410, it is rather easy option ProFire 2626 only with a limited number of channels. Throughout the rest of ProFire 610 shows excellent performance with sound. In addition, you should pay attention to a very comfortable driver this sound card control panel. However, keep in mind: as long as this card works on the interface FireWire, not exclude the possibility of difficulties in finding a suitable model of the controller. M-AUDIO recommend Texas Instruments. We turn to the interface - It is in this price category are those products that are capable to satisfy even the most demanding taste of most home musicians and sound engineers.
With this interface begins FireWire audio card line of Focusrite. Because of its really very low latency, a map handy for toolmakers, a combination of small size of the card and a sufficiently large number of channels makes it very convenient for field recording sessions. Mic preamps Focusrite - some of the best built-in sound card, and supplied Saffire MixControl, just one of the best software mixer audio interface management systems. It allows you to create up to six separate, internal mixes with very low latency. And if you take into account the fact that the Saffire PRO 14 has two virtual Loopback inputs for routing digital audio between applications, then the Routing capabilities are simply extremely high signal to your home studio. Naturally, there is and MIDI, and S / PDIF, and all the same, additional advantages in the form of branded virtual instruments synthesizer Novation Bass Station, ON Abletone Live Lite and 1 GB of samples from Loopmasters.
Regarding the quality of the audio interface Konnekt 6, I can say almost the same as that of the previous candidate Saffire PRO 14, but if he was more focused on the field sessions and work with several recording instruments, then Konnekt 6 - is "Classic Home Edition". Here everything is done in order to use it was the most comfortable and enjoyable. Let's start with the big volume knob, it has a backlight, which will be more intense the higher you set the volume level of the signal. Next - Arrays signal level. In devices in this price range generally quite rare these things, and even such informative. Also indicators themselves still able to work in several display modes: input, pre and post. Headphone output is regulated separately, but if you want a control panel you can assign it to the main volume control. The card has a microphone input with preamp and phantom power, and one line / inst input, output for monitors and headphones. Of the extra - a real-time reverb M40.
In this, perhaps, everything. Do detailed reviews of cards in the price range above, I see no reason, because, first: it is not quite for home studio, and secondly, people who buy rather expensive audio interfaces tend to know what they do and do not need the boards.
Nevertheless, let me briefly describe this price category:
If you need a minimum of channels and maximum quality, your choice - RME Babyface or Apogee One / Duet. If you need more than two recording channels, look at the RME Fireface 400/800 or Presonus FireStudio Project / Tube. You can also consider Prism Sound Orpheus or Metric Halo ULN-8.