Polyvox / Polivoks
(Поливокс)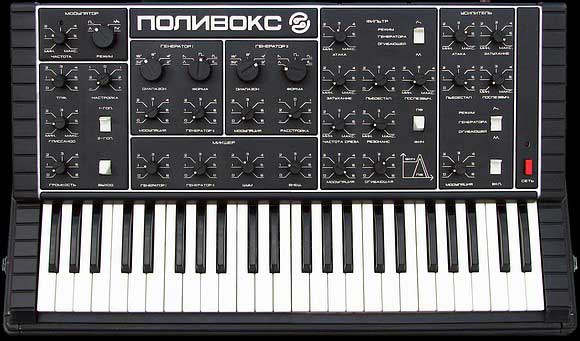 Today we talk about one of the best vintage soviet synth POLIVOX. "Polivoks" is a portable Musical synthesizer designed for the execution of any genre of music, as well as to produce various sound effects when exposed to sound films, performances, recording in the studio. Keyboard synthesizer has four octaves.
Synthesizer has an angled control panel, which is divided into functional blocks: modulator generator 1, generator 2, mixer, filter, amplifier, which allows the performer to synthesize a wide range of sounds and quickly change the character of the sound.
In a synthesizer, three internal sound sources: two full-range generator with variable waveform and noise generator to produce non-musical sounds (wind noise of the surf, puffing locomotive, etc.). You can connect an external audio source (guitar, electric, electronic, etc.). Sound signals from different sources are mixed in the mixer unit in any proportions independently.
To change the timbre sound widely applied synthesizer filter with adjustable cutoff frequency and quality factor.
Engineer: Vladimir Kuzmin, designer: Olympiada Kuzmina, hardware engineer: Yuriy Pheophilov, produced by Urals Vector Company.
Specifications
Mains voltage of alternating current, V

220

Power consumption, W

max 10

A range of operating temperature, C

-10 / +35

Relative generator drift over 4 hours continuous work is within, %

max +/- 05

Total musical range overlaped by main generators, Hz

21,8 (F of subcontra octave), + 5274 Hz (E of fifth octave)

Tuning range of the main generators, %

min +/- 12 (+/- 1 tone)

Detuning range of the second generator, %

min +/- 25 (+/- 2 tone)

Frequency change range of the cutoff frequency of the filter, Hz

min 100 + 10000

Dynamic range of the synthesizer, dB

min 60

Inlet voltage of the synthesizer in a load 10 kOm

Low output voltage, V

0,025

High output voltage, V

0,25

Dimensions of the synthesizer, mm

780х490х195

Dimensions of the pedal, mm

273х93х52

Weight, kg

< 20