Welcome to vst-store.com BLOG.

And so, today, will tell you all about midi. Perhaps many will be useful this topic. So, in fact many will be interesting issues such as: what the MIDI file? why it is necessary? how to work with midi files? What is the difference of MIDI and WAVE files? And many, many another questions about MIDI.
First I want to tell you what a midi. Now let's begin....
What does midi - MIDI: Musical Instrument Digital Interface.
The interface allows a uniform encoding of digital data such as pressing keys, volume control and other acoustic parameters, the choice of tone, tempo, key, change the duration of each note, and so on..., with precise time-bound.
MIDI-sequence of commands can be recorded on any digital media in the form of a file or transmitted by any means of communication. Playback Hardware or a Software called synthesizer (sequencer) MIDI and is actually the automatic musical instrument.

modifications MIDI
GM (General MIDI)

GS (General Standard)

XG (eXtended General)
There are several standard of MIDI Each of them, in addition to basic MIDI-commands describes the number and the specific set of instruments (sounds), which must be kept compatible device according to GM, GS or XG.
In fact, this characteristic makes sense only for synth sounds, and means that the synthesizer to support, for example, GM should be able to reproduce the sound of any of the 128 specification provided instruments. Each instrument corresponds to a well-defined number. In addition, MIDI-device must have a fixed number of independent MIDI-channels, each of which can be assigned its own tebmr and match sequence MIDI-events. The change of tone, similar to the beginning and end of the play notes, is also after the MIDI-synthesizer unique MIDI-messages. This provides a similar sound the same MIDI-file on different MIDI-synthesizers supporting the same standard.
There's also a number of so-called MIDI-controllers, to influence the character of the sound playing synthesizer music: for example, through a series of events controller Pitch Band can be smoothly or abruptly (depending on your desires and goals) to change the pitch of the sound. So, with Expression from the controller you can change the volume level on each of the 16 channels individually. With PAN the controller, you can set any shift MIDI-channel stereo, etc....
There are also controllers, not specified standards and are specific to individual models of synthesizers, but their use is fraught with incompatibilities with other MIDI-devices that are simply unknown The supported commands. This means that MIDI-files created using the command set XG, can incorrectly reproduced in at GS-or GM-device.
In particular, it may be that the drums are played piano tone that turns music into cacophony. The most versatile and is compatible GM, ie, MIDI-file created using GM, will be played correctly and GS-and XG-synthesizers.
GM: The most common - is General MIDI (GM). It defines, among other things, a tool table.
This table is nothing but as a numbered list of 128 names of tools. For example, the number 1 is an acoustic piano, under 69 - oboe, at number 20 - the church organ.
MIDI distributed among 16 channels. As there are 16 MIDI channels to send them notes. However, this does not limit the number of parties in the song. So, the channel number 10 is reserved for DRUMS. All notes are sent to this channel will be played drums virtual MIDI-synth.
When you working with virtual synthesizers VST (not built-in sound card), channels usually do not matter if not multi-channel synthesizer. For example all known Steinberg - Hypersonic, this VST has 16 channels, each of the instrument. And you can send the party on a particular channel.
MIDI files are generally smaller in size than the digitized sound of comparable quality.
The hardware synths support GM (General MIDI), as well as mobile phones (in some way). It turns out - the player in CellPhones requests hardware synthesizer - Play-I instrument number so and so such and such a note on a certain volume.
Some people believe that GS is an extension of GM, XG, and is an extension of GS.
This is not entirely for the respective reality, because these standards do not differ only in the number of tools and controllers, and some MIDI-format commands.
In order to record the parts in MIDI, you need a special program. Which called - sequencer. There are many sequencers. The use of "clean" sequencer is limited, usually they have limited DAW (Digital Audio Workstation) where you can work with MIDI.
In the sequencer, you can prescribe party notes (see pic.1), or you can special squares on the grid, called pianoroll (see pic.2). In the some DAW sequencers not have a score editor, and have only pianoroll (key editor).
The sequencer also allows you to record MIDI-notes (and other teams), played with MIDI-keyboard or synthesizer connected via MIDI cable.
Pic.1 - click image to enlarge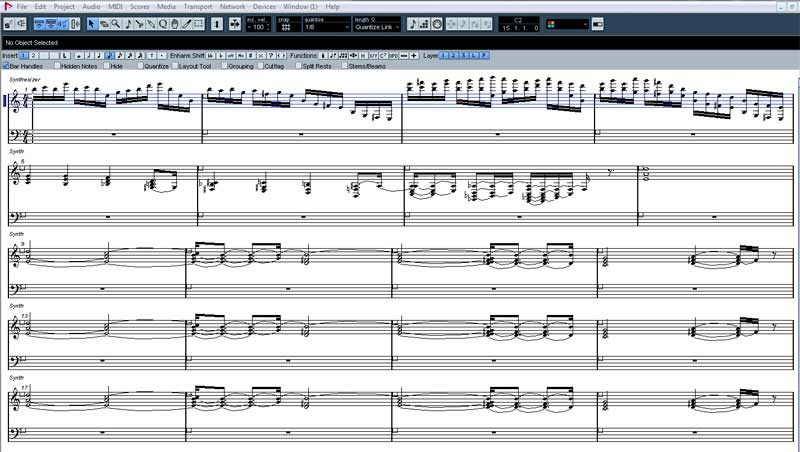 Pic.2 - click image to enlarge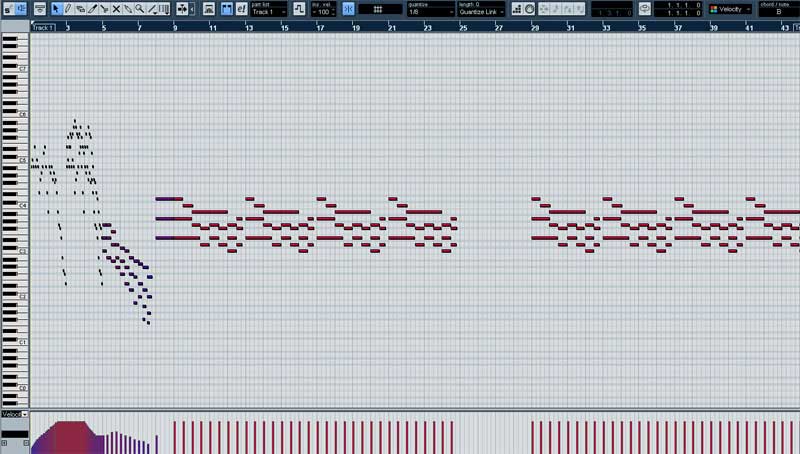 Sequencer can play MIDI-party through with synthesizers. The sequencer can also play MIDI-parties on virtual instrument (VST) connected to a sequencer.
These instruments are plugins in format VSTi. About VSTi I will tell you later.
So, now we know that when you working with MIDI you have a full orchestra of 128 standard instruments firmware of the synthesizer sound card (Piano, Guitar, Bass, Drum and so on....), and an unlimited number of additional. Now then You can create or compose songs, where you can use midi, also use real instruments.
What is the difference of MIDI and WAVE files?
MIDI-format is fundamentally different from the format Wave, as is used to store data entirely different type and is not intended for storing sound, being in fact only way to represent musical scores in a digital (binary) form. Thus, both the direct conversion of MIDI files to Wave format files and the like (including MP3) is not possible.
Problem of sound quality MIDI-files:
Character of the sound synthesis results can vary quite significantly by using various synthesizers.In this regard, it will be useful to consider the basic types of the existing sound synthesis, to what are:
synthesis according to some mathematical relationship

Wave-synthesis (sampling), ie, the sound synthesis based on pre-digitized sound samples (samples)
The era of sound on personal computers began with synthesizers based on the first type of synthesis. Its special feature is the need for a computing device with a very high efficiency, because the synthesis of high-quality sounds are on a complicated formula. Obviously, therefore, at the time (although it was only a few years ago) for the synthesis of the sound used in a simple mathematical relationships with a minimum of additional harmonics that enhance sound, which, in turn, is dramatically affected the sound quality and realism of the synthesized sounds in general and MIDI-music on the computer in particular.
Somewhat later, a new, much more efficient method - Wave-synthesis, which is used in most modern synthesizers. The principle behind it is based, is simple: pre-digitized sound bites just played at different speeds, which produces sounds of different heights. The task is responsible for the synthesis of a processor in this case immeasurably easier than in the synthesis of the sound waves on complex dependencies. The quality of the resulting sound is then determined mainly by the quality of the original audio track, which can be as high. Synthesizers, working on the principle described is called samplers and used as the basis for the synthesis of sound bites - samples.
Until relatively recently, the samplers were available just because of their high cost - in part because of the need for more memory for instant access to samples without significant delays in live performance work musician. Therefore, in many PCs wanting to play music (including many of us) settled sound cards with built-in sampler, if possible, unfortunately, much inferior to a professional sampler. The quality of sounds used in different models of sound cards from different manufacturers are very different and it was pretty low.
Better sound of MIDI-files:
One attempt to solve the problem of low-quality MIDI-music on the computer software synthesizers (VSTi) are operating as Wave-synthesis. But in reality, they can be used only when hearing predefined MIDI-files, what they are, in fact, created. When attempting a live performance of music using the sounds of the synthesizer there was a substantial delay between the time you press a key on the MIDI-keyboard and the appearance of the corresponding sound.In addition, the voices (sounds) can not be changed. Therefore, I wish more or less seriously making music on a computer installed quite expensive sound cards, which have a very high quality synthesizer (but, unfortunately, once again, "sewn") tebrami or board with the possibility of the use of arbitrary sounds by uploading them to your own memory audio maps, ie, essentially samplers. This, of course, contributed to raising the quality of MIDI-sounding music to a new level.
In recent years, widespread software samplers with extremely small (what is achieved using advanced algorithms and interfaces like ASIO) latency, with almost all features of hardware samplers and have, in addition, it is much more flexible and easy to use compared to last through update capabilities and tight integration with software MIDI-sequencer used for music playback via MIDI (recording, editing, MIDI-parties and so on). Future in the field of music on your computer, of course, it is for software samplers.
It is noteworthy that the concept of the bank of sounds (ie, the set of samples representing the voices for one of the considered standard MIDI), to which we are all so used to, almost irrelevant to serious samplers - whether hardware or software. Moreover, in this respect, and play MIDI-files is also losing some of its meaning. After all, you can download the sample is random, and it need not be limited to the rigid list of GM-Tones. But it was a hard list is the basis of standard MIDI-GM, GS, XG.
Perhaps here is a face, separating the listener and musician - they just have different goals. And if the audience at one of the highest flexibility inherent in the specific standards, for a musician to a result, the highest quality, the most appropriate of its creative ideas. This is impossible without accurate selection of a unique combination of tools, which is unattainable through, for example, GM, if only because it sounds different GM-compatible synthesizers differ. In the hands of a musician MIDI - an exceptionally powerful tool much larger scale, the foundation for a wide variety of creative ideas, a language for his fruitful communication instruments.
We have good news for you. Now you can buy a huge number of MIDI files at our store: www.vst-store.com
I'll be happy if this article helps to someone.
Thank you vsry much for your time.
note: Copying this article is permitted only with the publication of the active line and indexed links to vst-store.com
---