How to choose the Studio Monitors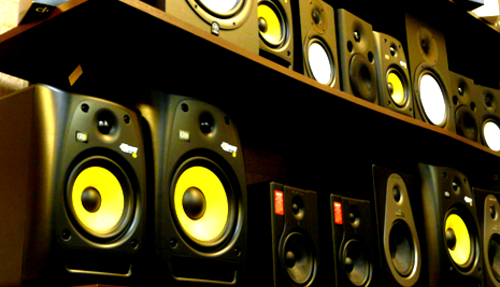 Hello dear norCtrack Users. We have already written an article about Sound Cards. Today we will talk about studio monitors. The studio monitors is a very important part for home and professional studios, without which the studio can not be complete. Typically professional studios has several types of monitors. But enough for the home studio, one or two types.
This article will help novice producers, and the more advanced colleagues save time when choosing studio monitors. To start let me answer two important questions:
what you need to have the studio monitors?
what is it?
Studio Monitors - is, in fact, the same speaker system consisting of a box and built-in speaker bass and treble, usually two-way, three-way and sometimes more. The difference between them is noticeable when listening to audio material on the other and on another equipment. Studio monitor this speaker system designed to monitor sound on recording studios and everywhere, where it is necessary to monitor the quality of the sound. It is called the monitor, as it gives the opportunity to actually track sound, not improving and smoothing it. Its main function - properly convey the sound balance without distorting or coloring the sound. With the correct location monitors creates the effect, like  the music is not one of them, as like created in the space between them. It is this amazing feature and sound due to the high cost of these studio monitors.
Why studio monitors have the ability to show all of these nuances?
The fact that the studio monitors have a flat amplitude frequency response that gives you the opportunity to hear clearly without distortion is exactly what is happening in your track. Thus with the help of studio monitors sound has the ability to adjust to the settings for the achievement of corporate sound. Conversely this effect is very difficult to achieve on the multimedia acoustics and even hi-fi acoustics. In this case, perfectly aligned mix can sound radically differently on other equipment that will make you come back again to work on your masterpiece.
So, you need studio monitors for home studio?
If you have just decided that no studio monitors your creativity not vozyimeet proper result, the next step is to choose a good pair of monitors.
First, they are of two types: active and passive. The difference between them is that the passive need to be strengthened. Ie have to buy an amplifier. It will have to pick up at the hearing, based on information about the resistance (impedance speakers should be equal to the output resistance of the amplifier). Log passive monitors have analog Speakon or mono-TRS. In the same active matched amplifier built in, they have more inputs, and the sound quality is not inferior.
Second, the monitors are near, middle and far field. Near field - it monitors the power to 100W speaker and up to 8 inches. They are located at a distance of 1-1.5 meters. The larger the speaker, the more bass you hear. But unprepared indoors this can become a buzzing bass. Monitors middle and far field are used in professional recording studios, and usually work in conjunction with the near-field monitors. So if you are looking for studio monitors for home, then look for it to be near type monitors.
The third thing that you need to take when choosing a professional speaker (studio monitors), s that they should not sound "nice and pleasant" sounds like domestic appliances. They should sound as "honestly" that you had the opportunity to hear the recording defects and artifacts, and have an accurate picture in the mix. You can alert them to a "dry" sound, but you'll be amazed at how many nuances and details you will hear the sound with studio monitors.
So when you have decided on the type of monitor, the question arises: "What studio monitors to buy?". Here you will find a difficult choice, but we will try and give the brand, which is deservedly popular.
Let's focus on inexpensive studio monitors - and note this does not mean that they are bad. Properly chosen studio monitors are designed to help in the work - and not be a part of home interior.
When choosing studio monitors, Note the size of your room. if your room (home studio) small (3x3 5h5m ..) it may be 3'' 5'' 6'' 7'' dynamics. The bottom line is that a broader spectrum of emitted lower 8 "speaker will resonate and drown out the mids and treble, which again would negate the purpose of studio monitors. If space allows you to roam can safely consider 8'' monitors.
Here are a few reputable brands, where to look for when choosing a monitor for your studio:
Behringer
M-Audio

Fostex
KRK
Yamaha
Event
ADAM
Equator