Korg N5 NI Kontakt NKI (Free)
1 1 1 1 1 1 1 1 1 1 Rating 4.75 (18 Votes)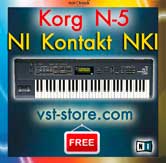 Free Kontakt Instrument of keyboard Korg N5 in format NI Kontakt NKI.The Korg N5 is specially designed for the North American Techno- and House-Scene. Now it's also available in Europe.

The Korg N5 is best seen as the keyboard version of the Korg NS-5R soundmodule.
Please register or login to download sounds!
Instrument List:
AQUARIUM
ARIANA
BOYS CHOIR
CYMBAL LIFE
DOUBLE BOW
EURONAIL
FADE AWAY
FREE TIME
FROM ABOVE
HAVE FUN
HEADHUNTER
HOUSEOFSKI
LAYER SYNTH
LETI THEME
MAST WORLD
MEGATRON
MELOTRONIC
MOON STONE
N FILES
OH LA LA
RAIN DANCE
RYTHEM PIPE
SONG OF LIFE
SOPHISM
SYNTH FAT
THE RED SUN
THEY APPEAR
TIME TUNNEL
UNI VERSE
VECTORING
WARRIORS
WEDDING DAY
ZINGER KEYS
---
Also Download Free...
You Might Also Like...