Yamaha SY-85 NI Kontakt Instrument
1 1 1 1 1 1 1 1 1 1 Rating 4.71 (17 Votes)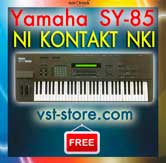 Free sample collection of vintage keyboard Yamaha SY-85 in format NI Kontakt nki.
Throughout the 1990's Yamaha used AWM2 in many of their successful products because of its high sonic quality and advanced synth-like editing features.
Korg N5 NI Kontakt NKI (Free)
1 1 1 1 1 1 1 1 1 1 Rating 4.75 (18 Votes)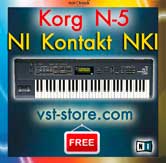 Free Kontakt Instrument of keyboard Korg N5 in format NI Kontakt NKI.The Korg N5 is specially designed for the North American Techno- and House-Scene. Now it's also available in Europe.