Yamaha SY-85 NI Kontakt Instrument
1 1 1 1 1 1 1 1 1 1 Rating 4.71 (17 Votes)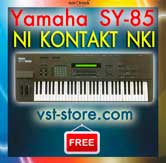 Free sample collection of vintage keyboard Yamaha SY-85 in format NI Kontakt nki.
Throughout the 1990's Yamaha used AWM2 in many of their successful products because of its high sonic quality and advanced synth-like editing features.
The SY-85 was a powerful workstation keyboard capable of some great sounds and full arrangements.Well, now you can hear them, distilled into their finest essences. This collection features a wide diversity of sounds and is suited to any kind of music you might imagine.

Create your music with Yamaha SY-85 Free Kontakt Instrument.

Please Register or Login to download files!
Instrument List
2VCOBASS
70 S LEAD
ANGELIC
BALLAD PIANO
BELLKEYS
BIG GRAND
CUEBASS
DEEP PERC
DYNALEAD
EASY GO
FAR AWAY
FAT FIVE
FAT SYNTH
FLUTISH
GERMAN SY
HAPPY SAX
LA BELLS
LEAD SOU
LFO TOWN
LONLEY EP
MOD POLY
MOOD EP
NEW MARK
NEW STRAT
OCT PIANO
OCTAFUNK
OPENING
PAD BELLS
PCM BELL
PIANO MIX
POLY P5
POP STACK
POP VOICE
ROCKORGAN
SCREAM B3
SEQ EP
SKYHARP
SKYHARP
SYNTH85
SYNTH BRASS
SYNWURLY
SYPLANET
Recomended Software Sampler
THIS COLLECTION IS IN NKI FORMAT SO WILL ONLY WORK WITH NKI COMPATABLE SOFTWARE. PLEASE CHECK THAT YOUR SOFTWARE IS CAPABLE OF IMPORTING NKI FILES BEFORE Downloading!
We recomended Native Instruments Kontakt 2.0 version or high versions.
---
Also Download Free...
You Might Also Like...