Access Virus Reason ReFill
1 1 1 1 1 1 1 1 1 1 Rating 4.70 (15 Votes)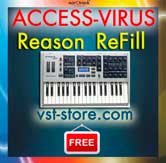 Samples created with the Access Virus, edit, and play digital audio as well as convert between various popular audio. You can use this free refill on Propellerhead Reason. Good sounds to create electronic music like techno, house, trance or dance music.

Format: rfl
Quality: stereo, 16 bit 44.1 khz
Please register or login to download files!

You Might Also Like...