Korg 01/W - Free SoundFont SF2
1 1 1 1 1 1 1 1 1 1 Rating 4.11 (32 Votes)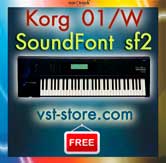 KORG 01/W is a workstation keyboard, which was first put into production in 1991, replacing a popular instrument Korg M1. This keyboard, which continued the traditional «KORG» sound, come down to our days as a series of «Triton» and «Oasys» etc.... This keyboard was produced until 1995.
Now we offer you to free download soundfont sf2 for your creativity, our latest collection - a collection of samples of the instrument Korg 01/W in format SoundFont SF2.
Included 56 single-sample high-quality sound banks in format sf2, ready for production and create your favorite music, as well as collections of fans of this sound!

Please Register or Login to download files!

---
Also Download Free...
You Might Also Like...