Korg X5-D - Free SoundFont SF2
1 1 1 1 1 1 1 1 1 1 Rating 4.04 (14 Votes)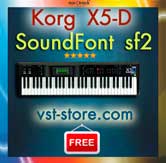 Carefully selected high-quality soundfont sf2 of the instrument Korg X5-D. Sampled with disabled effects in single-sample banks the most appropriate and convenient format SF2. This sound banks is very similar to the original instrument Korg X5D and immediately recognizable.

Please Register or Login to download files!
---
Also Download Free...
You Might Also Like...