Kurzweil K-2500 - Free SoundFont SF2
1 1 1 1 1 1 1 1 1 1 Rating 4.21 (17 Votes)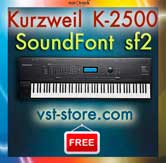 We present you a new free soundfont collection, samples in format SoundFont SF2 of the famous vintage synthesizer Kurzweil K-2500. The set of entire 59 single-sample in format SF2 banks of different directions: bass, wind, brass, violin, guitar, etc....

This soundfont library can be used with success in your new projects!

Please Register or Login to download files!

---
Also Download Free...