Yamaha FS1-R - Free SoundFont SF2
1 1 1 1 1 1 1 1 1 1 Rating 3.71 (14 Votes)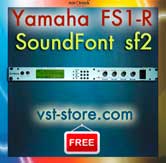 We present you the new and unique free soundfont collection! This module was first released in 1998. Samples in format SoundFont SF2 of the unique vintage synthesizer YAMAHA FS1-R, carefully mounted in a sound bank! 

The collection contains as many as 10 high quality sounds in format SF2. We have sampled the most popular patches of this synth.

Now you can download this free soundfont.

Please Register or Login to download files!

---
 Also Download Free...