Yamaha Psr-520 Free SoundFont SF2
1 1 1 1 1 1 1 1 1 1 Rating 4.40 (15 Votes)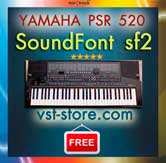 Warm and distinctive vintage analog sounds in format SoundFont SF2 of the legendary series of YAMAHA PSR 520, for many years, so beloved by music fans and musicians. In this collection included a few sounds of this remarkable instrument.

Each bank has in its structure three additional subbank "dry" samples of samples, taken at maximum volume (velocity), and samples taken together with the DSP effects processor workstation Yamaha PSR-520.
Please Register or Login to download files!
---
Also Download Free...