MIDI FILES - HUGH COLLECTION - 540.000 MIDI
Over 540.000 MIDI files - Hugh Collection
Price:
Salesprice with discount:
Discount:
Description
Overview
Huge MIDI file Collection

OVER 540.000 MIDI Files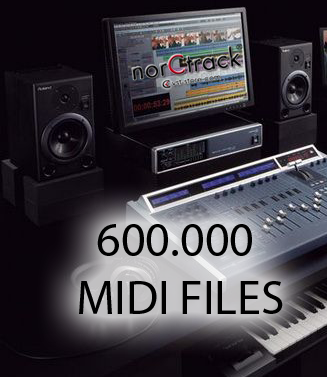 A huge & universal MIDI Files.
In this collection included over 540.000 MIDI files in 22.000 Folders. The size: 8GB on 2DVD DISCS.

In this collection included all popular genres such as: rock, pop, metal, electronic, classical, jazz, ethnic, world, and so on..... Also it has MIDI Drum Loops in various genres, melodic patterns.
Also in this collection includes a huge number of well-known songs of the world stars, DJ's, and more...famous songs in format MIDI.

Everything you need as a beginner musician, and professional musician. It really is a wonderful opportunity for all musicians.

You can use this MIDI collection in different genres, to create music. This product just will make your dream a reality!

Also, this collection will help many novice musicians to learn a lot of useful.

To find out what a MIDI file or get more info about MIDI files, please read our articles about midi or Contact Us.

Features
Separate folders by alphabetically 0-9 and A-Z.
Separate folders for Electronic Musicians and DJ's
Individual folders drum parts in MIDI - in different styles and genres.
FL Studio Scores
And More....
Compatibility
THIS COLLECTION IS IN MIDI FORMAT SO WILL WORK WITH NKI COMPATABLE HARDWARE or SOFTWARE. PLEASE CHECK THAT YOUR HARDWARE or SOFTWARE IS CAPABLE OF IMPORTING MIDI FILES BEFORE BUYING!

Compatibility: UNIVERSAL

Software requirements: FL Studio (Fruity Loops), Steinberg Cubase, Steinberg Nuendo, Adobe Audition, Logic Studio, MAGIX Samplitude, Cakewalk - SONAR, Sony ACID, Avid | Pro Tools , One-Man Band and all softwares that read MIDI format.

Hardware requirements: All hardwares that read MIDI format.
For Example: lot of Yamaha (psr, psr-s, tyros, cvp etc...), Korg, Roland Casio, Technics, Ketron Keyboards and so on.... read MIDI files.


Please Note: You may have some MIDI Files that are repeated in other folders.

THE BOX NOT INCLUDED.