ENSONIQ MR-61 NKI Soon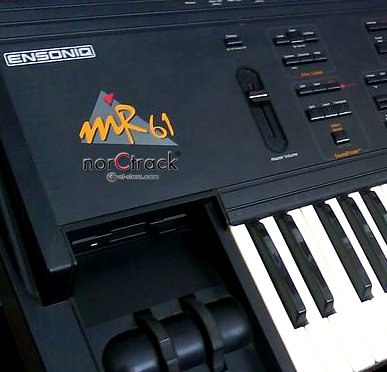 Ensoniq MR-61 Expandable Performance/Composition Keyboard created by "Ensoniq Corp." -  is one of the most popular classic synthesizers witch include excellent sounds and his time was a very popular musical instrument.
This workstation has a 61-key synth-type function with after touch, programmable Modulation Wheel and Pitch Bend, Polyphonic 64 voices, 16 multitimbral parts, sampler 14MB ROM (expandable to 86Mb three boards EXP on 16-24Mb or MR-Flash option to 12MB maximum, with the possibility of loading their sample or ASR / EPS format) 16-bit / 44kHz waveforms, 486 ROM sounds (including GM Bank), 79 drum kits (11 GM) based on 786 drum sounds, 256 RAM sounds, Performance mode has 3 programmable zone division and layering, Sound Finder feature to search for sounds by category, full editorial sound architecture capabilities (through Unisyn editor), Transwave function, 24-bit effects processor with 6 buses, 40 special effects, 16-track sequencer with full editing features - Sequence / Song, 50,000 notes, Resolution 384 ppq, loading SMF, Idea Pad - phrasal recorder, built-in drum machine with over 60 rhythms and variations, 1.44MB floppy drive is compatible with MS-DOS, MIDI In / Out / Thru, 4 line outputs, inputs for the pedals.

So, norCtrack purchased this fantastic instrument, and will create virual version of ENSONIQ MR 61 for Native Instruments Kontakt. In pack will include all internal sounds of ensoniq mr-61 with lot of configurations.

The release of this virtual instrument during 1-2 Mounts
Status: Processing
---
Before we release Ensoniq MR61 NKI, you can enjoy with Ensoniq TS-12 Kontakt Instrument